Do not think twice now if you want to buy a keyboard case for your iPad. Zagg offers 20% discount on all tablet keyboard models during the Cyber Monday 2012.
The offer includes the new hi-end models like ZaggKeys ProPlus too.
Here are short reviews and direct links to Cyber Monday product pages for each model.
ZaggKeys Pro Plus
It is currently the most developed keyboard case by Zagg. The item has backlit keys in seven color choices. The keyboard is embedded into a very thin (7mm) aluminum cover. It feels great to have and use this keyboard for the iPad. Available for all latest iPad models.

---
ZaggKeys ProFolio+
This is very similar in design but there are differences too. It covers and protects both front and back of the iPad. The material is not aluminum but textured leather. Again, 7 choices of backlit keys are offered.

---
ZaggKeys Pro
You can think this as Pro Plus model without backlit keys. The other features are the same.

---
ZaggFolio
It was a top rated and hit Apple accessory in 2012 and still popular because of high quality. A textured polyurethane or genuine leather material can be chosen on the cover. There are more than 10 color choices and different texture styles. The keyboard color can be customized when you add it to the shopping cart too.

---
Logitech keyboard case
Similar to Pro models, but a bit dated in design. It features the brand quality of Logitech.

---
Flex
This is a very compact bluetooth keyboard with its own case. Just take the keyboard out of case and put the iPad on the special dock of the keyboard with the help of the case. Great for travels.

---
Solo
Similar to Flex but its keyboard layout is larger for better typing. It can also connect to Android devices besides iPads.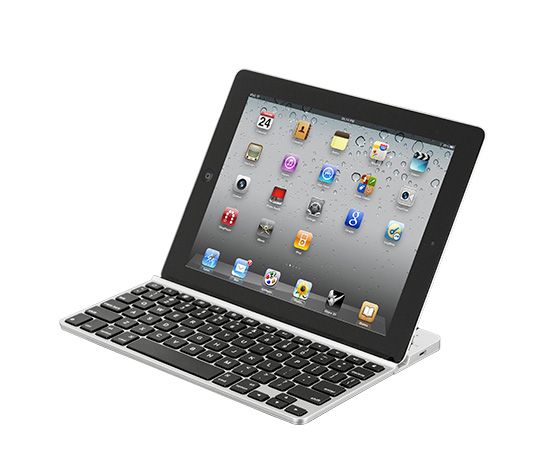 Zagg Keyboard Review Videos